This weeks theme is...
FLIPS AND FOLDS
We want to see more than one flip or fold in your cards this week.
So get creative and show us what you've got.
This week, we have the honor of being sponsored by...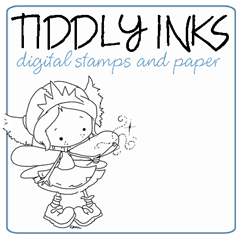 To make this card, I used a full 12 x 12 sheet and cut a 6 x 4 inch pieces out of the bottom two corners. Then I folded the sides in and the middle piece in half and tucked it up inside the card. When it is open, the card will stand on its own with a three dimensional piece in the middle.
I colored up my adorable fairy Tiddly Inks image with Copic markers and used pop dots to add her and the embellishments to the card. This project actually looks way better in person.